We don't keep it much of a secret that August is "Angry Season" in Venice. It's when our temperatures are hot, the humidity is high, and it's when you need your personal space and you can't get it, because it's also high tourist season. It's also when most Venetians, including ourselves, shut our businesses and get out of Dodge.
This August, we made the decision to stay in town, rather than escaping to cooler and calmer realms. We had a sick kitty, Cornbread, and our two dogs are old so boarding them in this heat would be beyond cruel. We lost Cornbread in June, but Adam, the dogs and I have been seeking shelter in our bedroom, the one place where we have air conditioning.
But there is a bright side to having a staycation in Venice in August — the produce. It turns out this is Happy Season for magnificent summer fruits and vegetables, and we are trying to get our fill.
We were walking to an appointment we had on the Lido, a calm island oasis in our lagoon, and came across a beautiful produce stall. The first thing that caught my eye: wild blueberries. And they weren't being sold in those skimpy, expensive plastic trays. There were mounds of them. It is truly accurate to say there was an abundance. So tiny and dark, the market table was groaning with them.
We bought a kilo (2.2 pounds) right away and I've been going through all of my blueberry recipes to see how I could showcase them in all of their glory.
First on my list, was to make Wild Blueberry and Goat Cheese Hand Pies. It may sound bizarre to some, but we love the contrast of the sweet/tart blueberries against the tangy goat cheese. This recipe was also attractive because there was very little sugar added to the filling, just two tablespoons of honey, so the wild blueberry could shine through without a heavy mask of sweet. Of course, I did gild the lily with sprinkling sugar on the top crusts, but that isn't truly bad form.
Another bonus, these don't take long to make, so for those of you like us that have sweltering kitchens, it means you can be in an out in under an hour.
I asked the fruttivendolo (produce seller) how long we will have these little jewels in season and he said at least until mid-September if the weather holds out.
What a way to turn Angry Season into Sweet. I can see we will be making another trip to the Lido very soon.
Pax tibi
Maya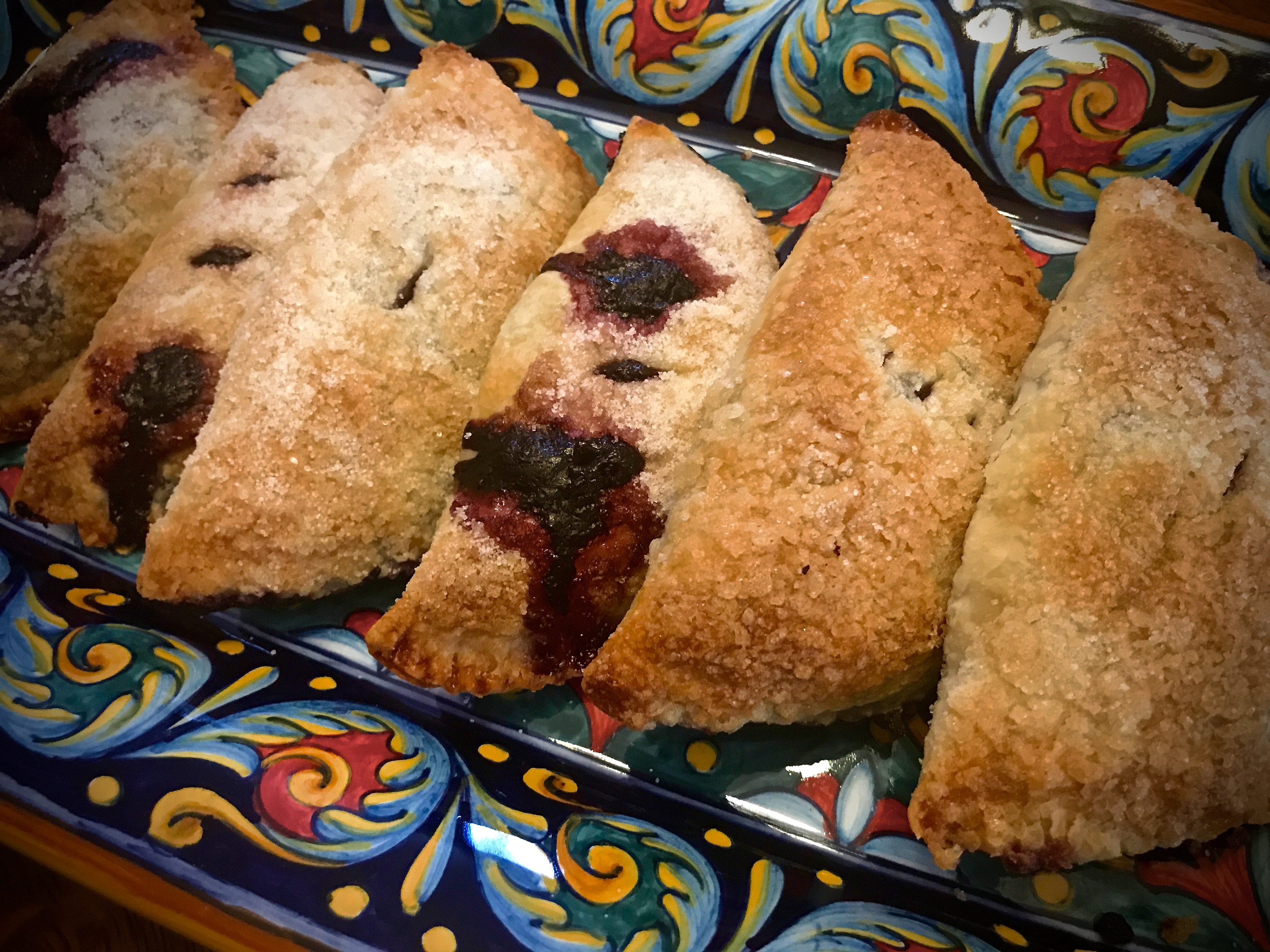 Wild Blueberry and Goat Cheese Hand Pies
Makes 6 hand pies
6oz/170g goat cheese, room temperature
2 cups wild blueberries
2 tablespoons honey
1 1/2 teaspoons grated fresh ginger
zest from one lemon
1 roll refrigerated puff pastry
1 egg beaten with 1 tablespoon water, for brushing pies
sugar for sprinkling tops
Preheat oven to 350F/175C.
Place softened goat cheese in a small mixing bowl.
In a small saucepan on medium high heat, combine the blueberries, honey, ginger, and lemon zest. Heat mixture, stirring often, for about 3 minutes or so, until the blueberries release some of their juices.
Strain the blueberries, preserving the blueberry juices. Gently mix the blueberries into the goat cheese.
Place the reserved blueberry juices back into the saucepan and heat on medium heat. Boil juices until thickened, about 8 minutes, carefully watching and stirring so the juices don't burn.
Once thickened, add the juice to the goat cheese blueberry mixture.
Roll out puff pastry on lightly floured surface. Using a large round cutter, cut out 4 rounds of pastry. Re-roll the scraps to get out two more rounds. Place 2 tablespoons of filling onto each round, then using a pastry brush, brush all around the edges with egg wash, fold over, and crimp using the tines of a fork to seal the hand pies.
Place pies on a baking tray lined with parchment or silicone liner. Brush more egg wash onto the tops of each pie, then sprinkle with sugar. Cut a couple small vents into each pie.
Bake in oven for 18-22 minutes or until golden brown.
These freeze beautifully. Prepare them up to the crimping stage and then freeze on a parchment lined tray. Once frozen, I vacuum pack them, but you could just as easily store in a freezer bag. When you are ready to cook them, take them out of the freezer, place them on a parchment lined sheet, brush with egg wash and sugar, and bake from frozen for about 20-25 minutes. Keep an eye on them so they don't burn.