I feel a kinship with Vivian Howard, star of "A Chef's Life," owner/head chef of Chef and the Farmer in Kinston, North Carolina and author of the spectacular cookbook, "Deep Run Roots." For example, we both lived in New York City and then decided to move to small towns. For her, it's a tiny fire district in North Carolina. For me, it's Venice, Italy. In both of these small towns, we have access to top quality seasonal produce and locally-sourced meats and fish. We use the seasons to dictate what we cook, and rarely use a product outside of that season. We are also each restricted by these small towns, because the locals like to eat what they like to eat, and there is not a lot of variation — traditional foods, cooked in traditional ways, which is incredibly confining to our wild, meandering palettes, seasoned by New York, and for me, Los Angeles (where I'm from) as well.
Reading her cookbook inspires me to look at our own local produce and figure out what new things to do with it, rather than just keep with the same ol', same ol'. Don't get me wrong, Adam and I love traditional Venetian food. It's amazing; it's what we built our business on and proudly share it with guests every day. But, sometimes thinking outside the traditional is refreshing, delicious and in the case of our wandering appetites, necessary. Boredom shacked up with food are not happy houseguests.
Guests often ask what we miss about life in the States. Our answer is always the same: the variety of foods and cuisines available anywhere, anytime. Luckily, I have learned I can recreate almost any cuisine: Whatchu want? Chinese? I got Szechwan peppercorns and fermented black beans. Thai? I got fish sauce and sticky rice. Mexican? I make our own corn and flour tortillas and have a freezer full of jalapenos and habaneros. [Editor's note: Most products available through Amazon, through which most things are possible, praise them.]
What can't I do? Barbecue. No barbecues or smokers are allowed in the historical center of Venice, where we live. This is painful for us, especially because Adam and I are self-proclaimed BBQ hunters. I even spent four days in Vivian's neck of the woods, driving 600 miles through North Carolina eating their local BBQ for breakfast, lunch and dinner, each and every day. You could say it's an obsession. And sadly for us, it's not something that can be easily replicated.
Until one day, surfing through Amazon, I came across a kettle-style stovetop smoker made by Nordic Ware. This particular smoker is different because it has a domed lid, just like a kettle BBQ, so I could actually fit a whole chicken in it. It has been a true gift from Heaven. We finally can have something close (although it's not perfect, I'm still tweaking with it) to what some might call a semblance of BBQ. But we'll take it, every damn time.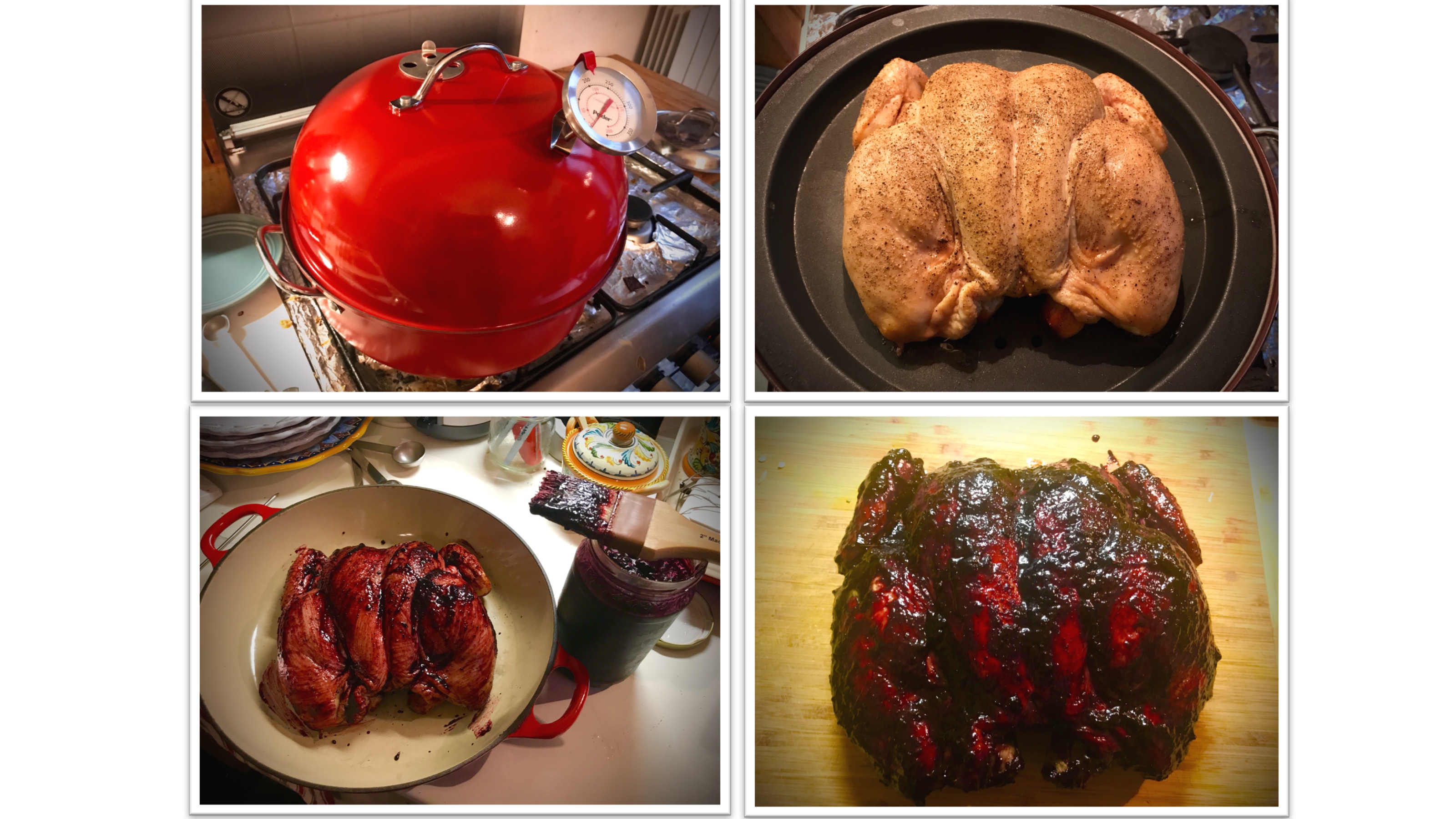 Because I still had plenty of wild blueberries I decided to try Vivian's Blueberry BBQ Sauce and slather it on a smoked chicken.
Smoking the chicken is all pretty straightforward — I add some apple wood chips to the bottom pan of the smoker, put the drip pan on top of that, then the cooking tray, and then the chicken, then the lid. Place in on a burner on medium flame and let the smoke begin. I smoked the chicken for about 20 minutes, and then transferred it to the oven to finish cooking, as I slathered it with Blueberry BBQ Sauce every 5 minutes or so until it was done.
In the end, we were in the ballpark of BBQ chicken. And that for us is a huge win. So for those of you that feel our pain because you live in a home that has no access to barbecues or smokers, this is a pretty close second.
And the Blueberry BBQ Sauce is a home run!
Pax tibi
Maya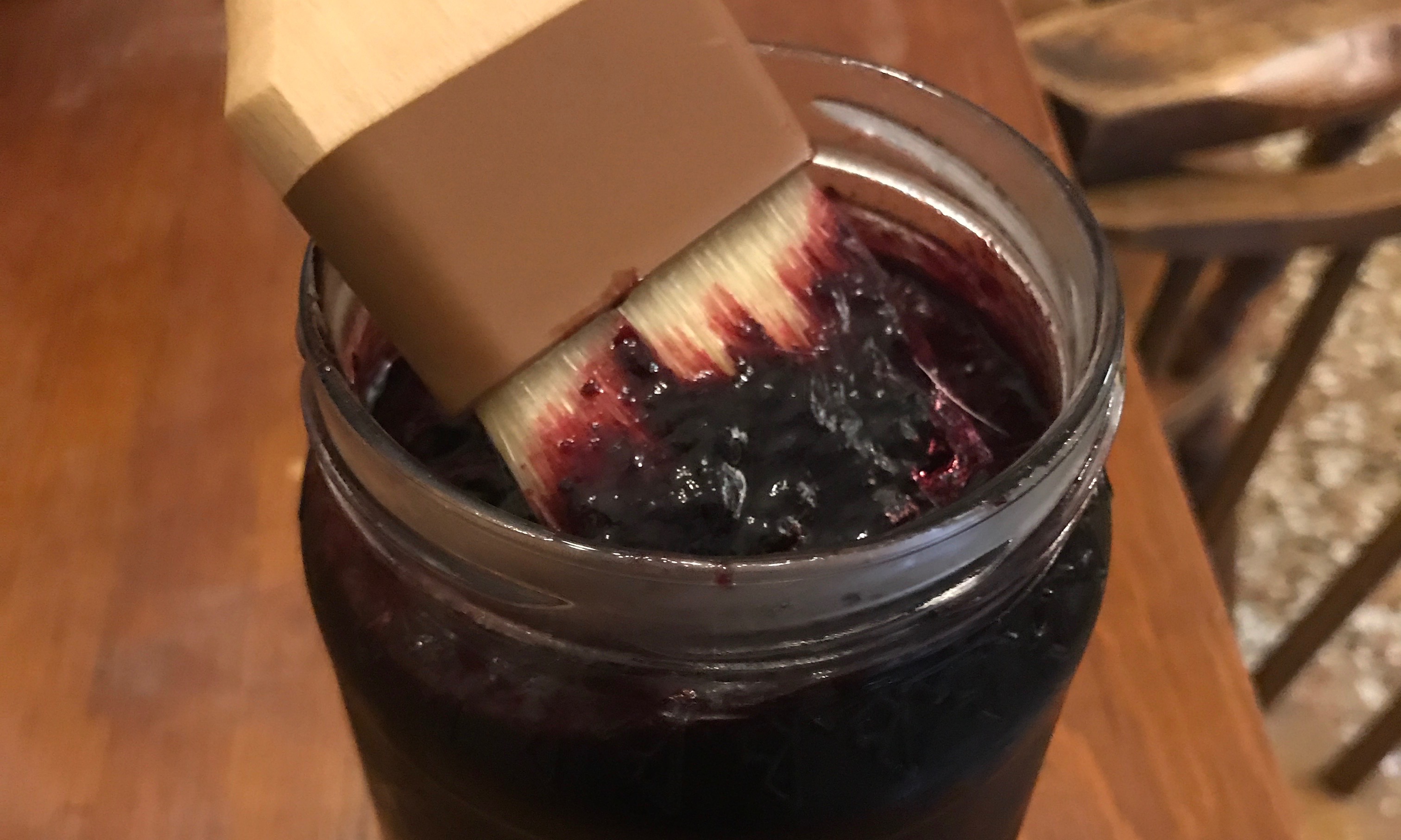 (Wild) Blueberry BBQ Sauce
Adapted from "Deep Run Roots" by Vivian Howard
3 cups/450g blueberries, wild or farmed
2 cups/475ml apple cider vinegar
2 cups/400g sugar
1/4 teaspoon red chile flakes
1 3-inch cinnamon stick
1 bay leaf
In a medium saucepan, combine all of the ingredients and bring to a simmer over medium heat. Reduce the heat to low and cover the pan. Cook for 1 hour, stirring every 10-15 minutes or so. You really need to watch it so it doesn't burn.
Remove the cinnamon stick and bay leaf, and pour the blueberry mixture into a blender. Place on the blender lid, but remove the top plastic knob and cover the hole with a towel so as you blend it up the very hot sauce doesn't explode all over you and your kitchen.
Blend the sauce until it is as smooth as you can get it. You want the sauce to be thick enough to coat the back of a spoon. If it isn't thick enough, put the barbecue sauce back into the pot and reduce it carefully until it's the right consistency. If it's too thick, just add a bit of water to thin it out.
The sauce will keep for months in the refrigerator.
My blogs include may include affiliate links, so without costing you anything extra, I'll earn a small percentage of the sales if you purchase items through these links. Thank you for your support!