In the past couple of years, I have been baking bread at home. The very first time I made a loaf, I walked all around the house, shouting to anyone who would listen, (Adam, the dogs, the cat, the TV, the neighbors…) in a Tom Hanks Castaway voice,
"I… HAVE MADE BREAD!"
There was magic in it. To take flour, yeast, salt and water and turn it into something so beautiful, was and still is exciting. I felt it in my soul, like I was doing something primal and basic to human needs. I felt I was part of an ancient secret society. I also found it very therapeutic. I started out using regular commercial yeast for my breads, but the more I read about sourdough methods, using wild yeasts you nurture yourself, the more I was intrigued. If I am being honest, I am much more successful baking with commercial yeasts than with homemade sourdough starters, as sourdough is tricky. But… I keep trying.
It all started as a craving for a good sourdough, which, once again, you can't find here in Venice. I think there is one bakery that does it, but shelling out 15 euro for a loaf of bread is not something I'd be inclined to do on the regular.
I thought it would be a short-lived experiment and an easy enough thing to do, and then I'd go back to using commercial yeast. Ah, how naive I was then. I started getting sourdough cookbooks, I made my first sourdough starter, I took a class on sourdough baking on Udemy, I got involved in bread groups on Facebook, and that's when I fell down the sourdough rabbit hole, kids. I admit I may have gone a bit overboard.
I now maintain four different starters, each for their own purpose, each named after Biblical women (I support these women… Eve was framed). One does not need four starters. But there you go.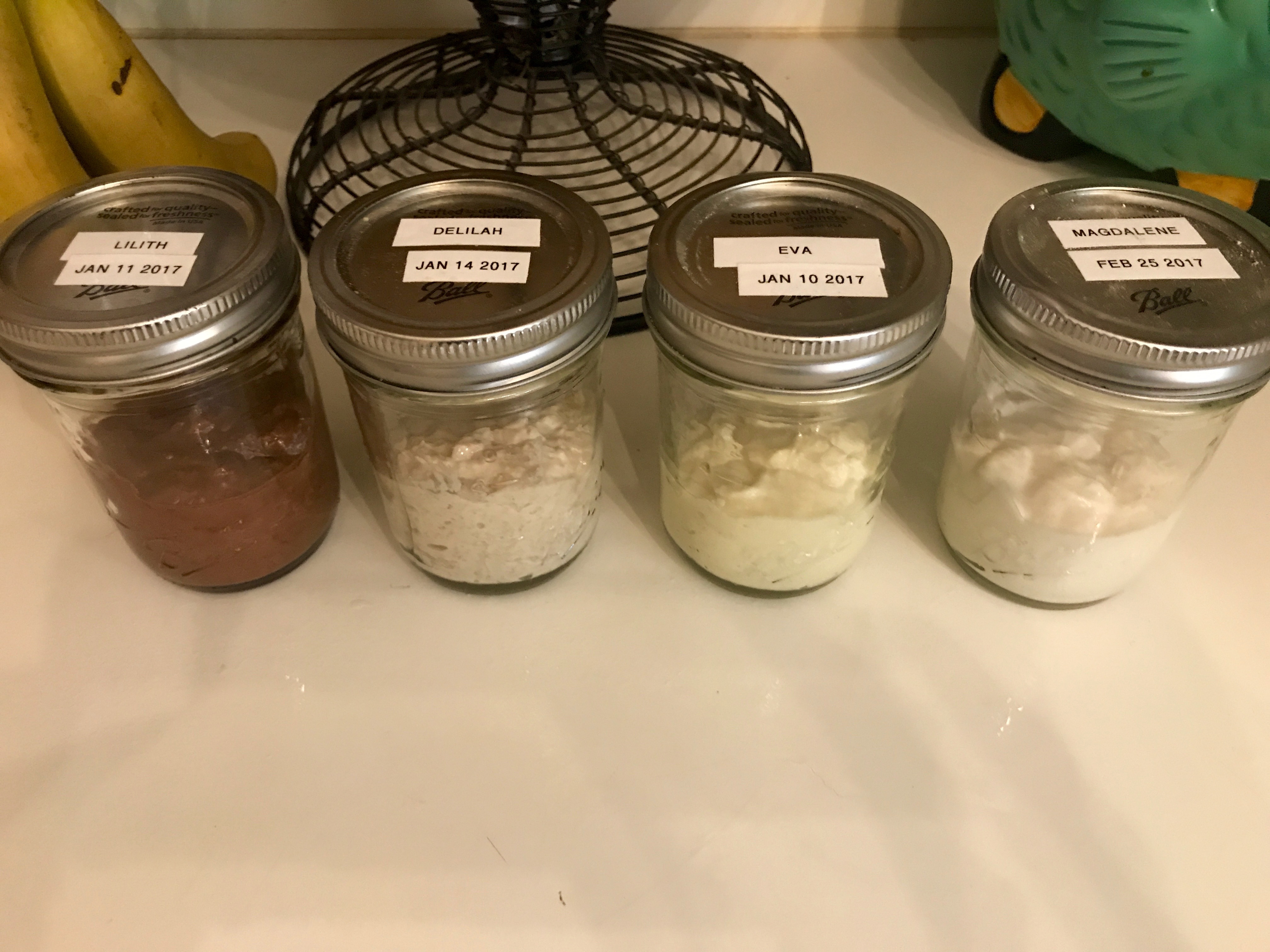 I currently have 10 cookbooks solely dedicated to the art and science of baking bread, not to mention all of my other general baking books.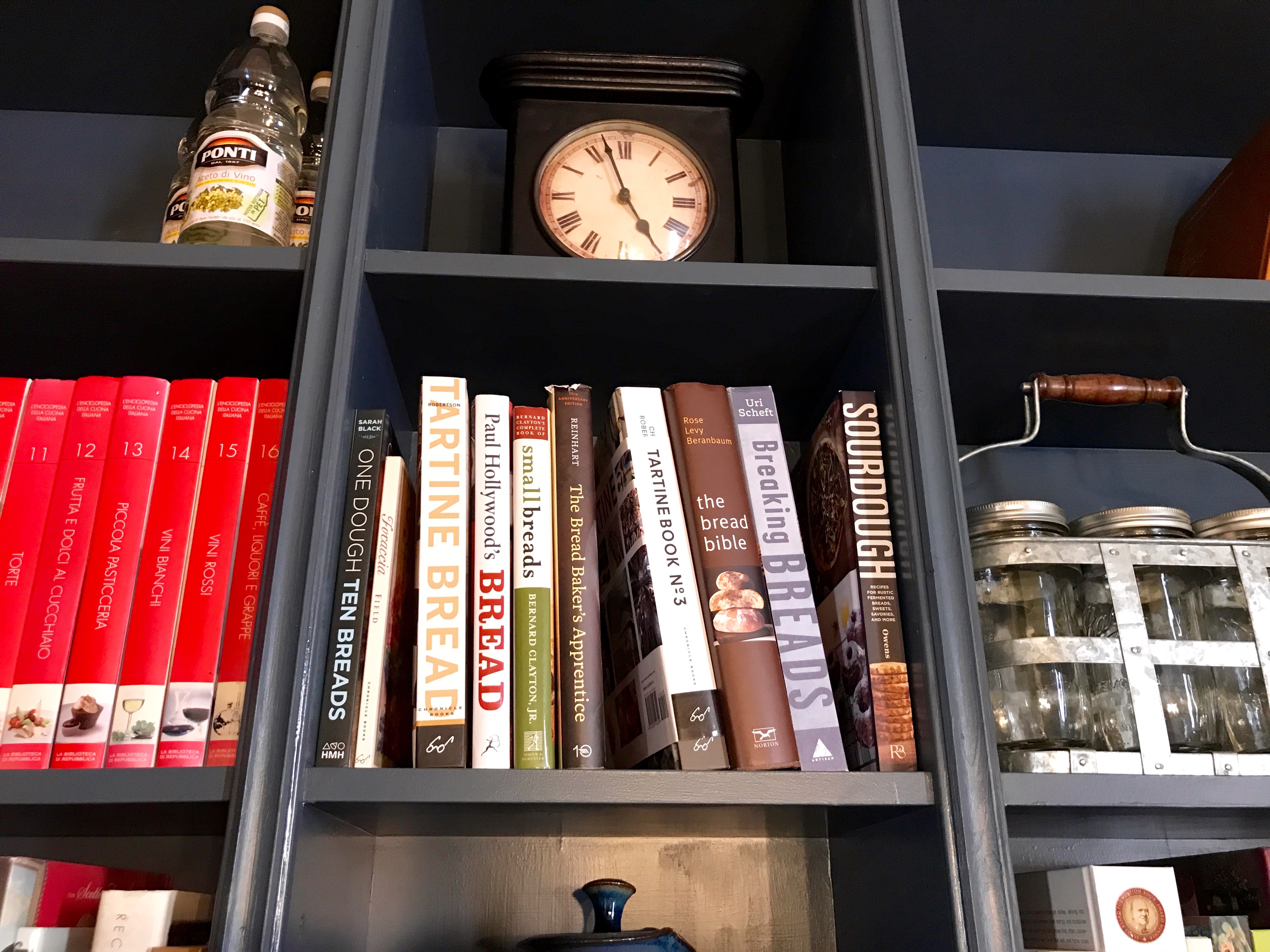 And yet I'm still trying to figure out how to get the Modernist Bread collection, meaning, how do I get 5 huge volumes in the house and $600 out of the bank and under Adam's nose? I do not need these books, but hey, what's knead got to do with it? (Sorry.)
And then, as one becomes a member of these thriving bread communities, inevitably bread humor, silly buns (er, I mean puns) and bread memes come along for the ride.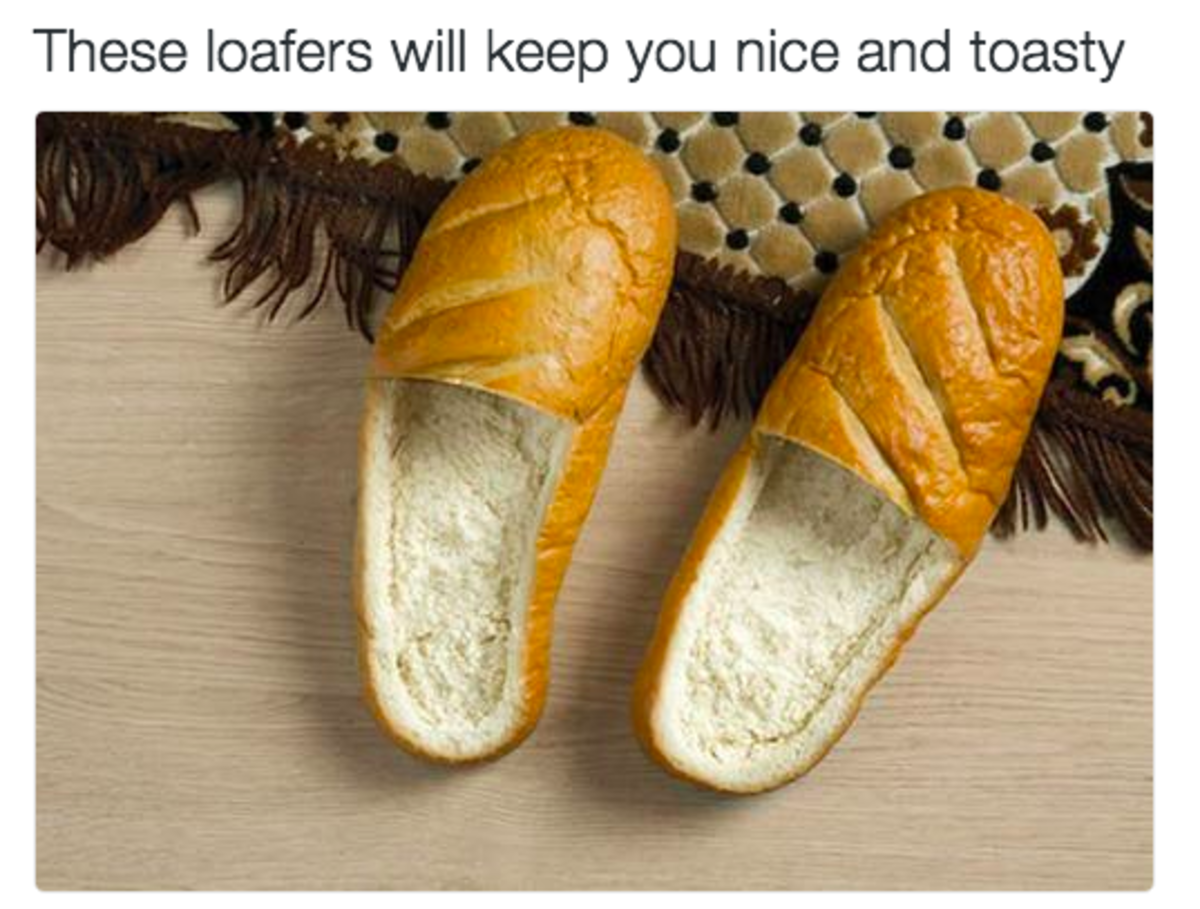 Or…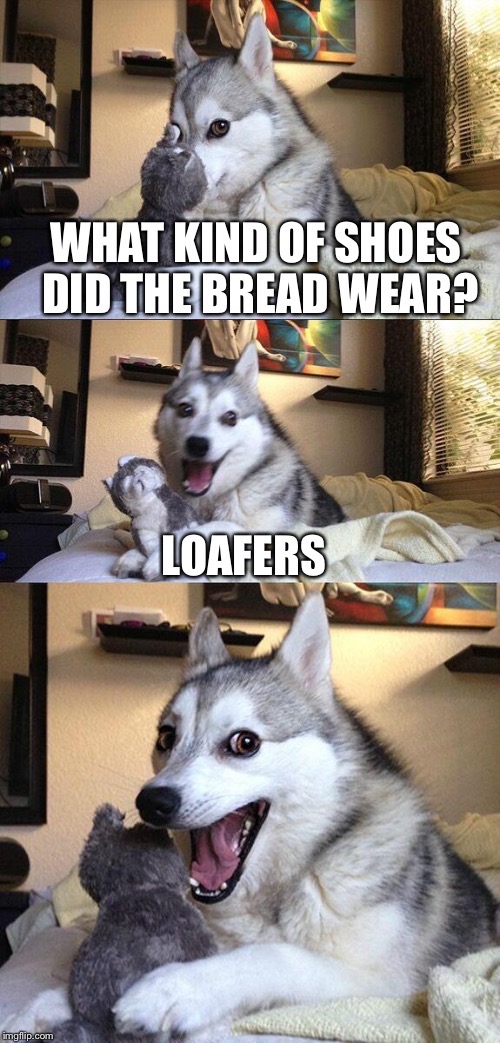 And poor Adam just rolls his eyes. He is now subjected to this on a near daily basis. Although I did just show him an R-rated one, and he laughed until he cried and then asked me to send it to him, once he caught his breath. (LOL — If you'd like to see that particular one, scroll all the way to the bottom.)
To help compensate for this nuttiness and nonsense, I offer him fresh baked bread. It fills our house with an aroma that says home, and he is always an enthusiastic taste tester.
I had a serious craving for a jalapeno cheddar cheese sourdough. Once again, these are ingredients I can't find here, but the stockpilers that we are, we usually have a brick or two of cheddar and a bag of jalapenos in the freezer.
I followed a recipe from one of my favorite sourdough cookbooks, not surprisingly named "Sourdough", by Sarah Owens. And it is delicious.
Next time, I will definitely double the jalapeno and cheddar cheese, and will probably also add additional chunks of cheese right before baking.
Still, it makes for a gorgeous piece of toast. Smothered with Kerrygold butter, of course.
I'm including my adapted version of the recipe, but I'm not really expecting you to make it. Sourdough is finicky to work with and takes lots of time. It also takes lots of research and study to understand terms and techniques. And it does require a few specialized tools/equipment. Maintaining a starter is like caring for a pet. Still, if it is something you'd be interested in exploring, my best recommendation is to buy Sarah's book. Out of all of my sourdough books, hers is the easiest to understand for beginners. I'll be here to cheer you on. It's the yeast I can do.
Pax tibi,
Maya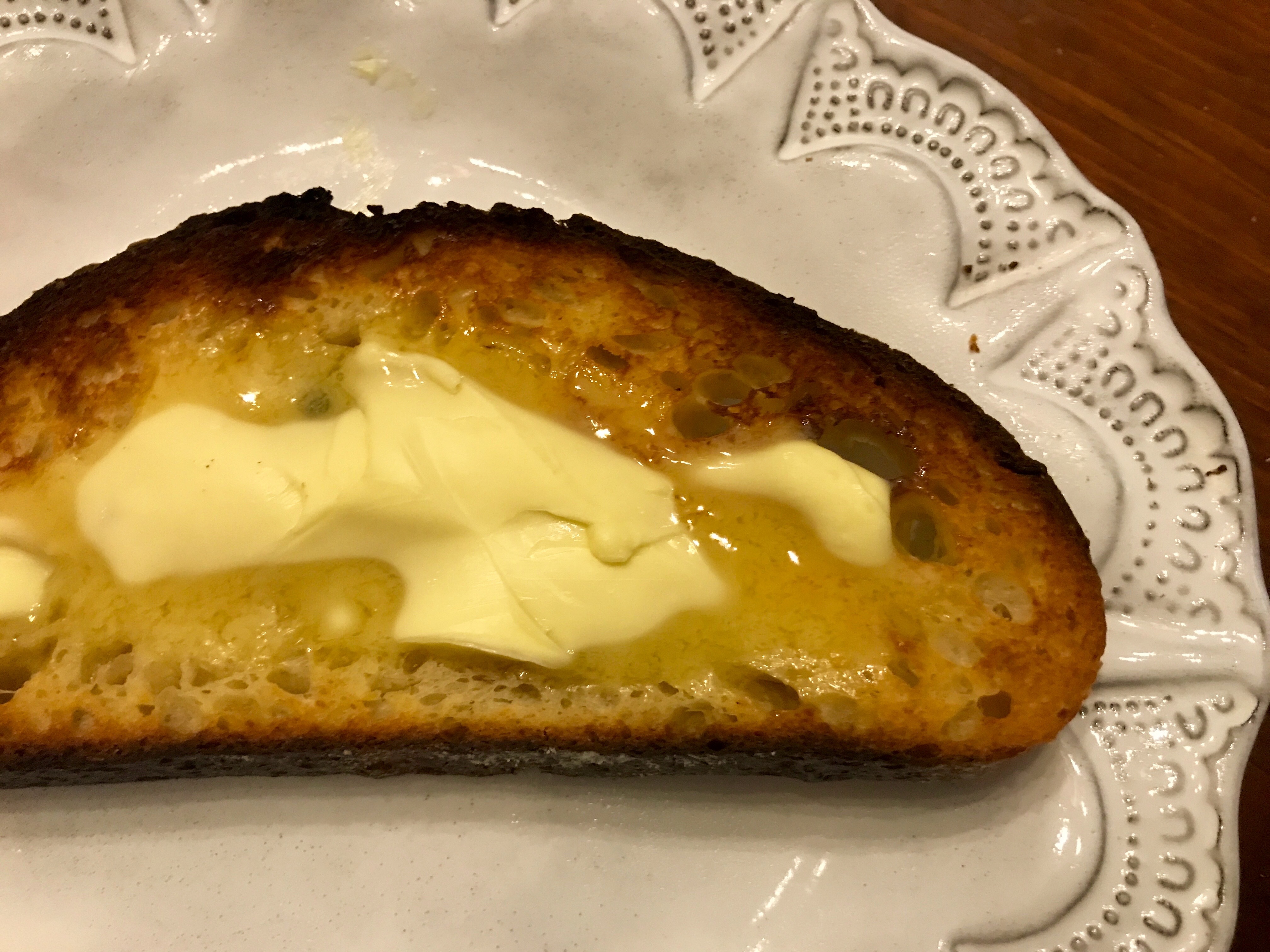 Jalapeno Cheese Bread
Adapted from "Sourdough" by Sarah Owens
For the Leaven:
30g 100% hydration starter
45g water
45g bread flour
For the Soaker:
55g medium grind cornmeal
150g boiling water
For the Dough:
120g leaven
280g water
1 teaspoon Sriracha
Soaker
65g semolina flour
65g whole wheat flour
415g bread flour
12g kosher salt
Fold-ins:
6 medium jalapenos, cut into thin rounds
175g Cheddar, cut into 1/4-inch chunks
Build the Leaven: Eight to ten hours before you want to start the process of making the dough, build the leaven. In a large bowl, combine the starter and water, mixing well. Then add the flour, again, mixing it well. Cover the bowl and set aside at room temperature.
Make the Soaker: In a medium bowl, combine the cornmeal and the boiling water. Stir well to make sure there are no dry bits of cornmeal. Cover and let cool. Set aside until you are ready to make the dough.
Make the Dough: When the Leaven looks puffy and active, stir in the water, Sriracha and Soaker and mix well. Add in all of the flours and mix with your hands until there are no dry bits. The dough will be extremely sticky, but just go for it. Remove any rings off your fingers first!
Cover the dough with plastic wrap and let it sit for 20 minutes. After the rest, sprinkle the salt on the dough and mix completely to incorporate it throughout the dough. Finally, add the jalapenos and Cheddar and knead the dough until incorporated. I find it's easier to do it on the countertop rather than keep it in the bowl, but do what works for you. Cover the dough in the bowl with plastic wrap, and allow it to proof for 3-4 hours, stretching and folding the dough every 30-45 minutes.
Shape the Dough: When the dough looks puffy and active, divide it in half and shape each half into a rough round. Cover each with plastic wrap and let it sit for 30 minutes. After the rest, form it into rounds with an effort to get tension on the outside "skin" of the sourdough. Place seam sides up in well floured banneton, cover with plastic and refrigerate overnight.
When you are ready to bake the loaves, preheat your oven to 500F. Place a large cast iron dutch oven with lid into the oven, and allow it to heat at least 20 minutes at that temperature. Remove one loaf from the fridge and let it rest on a counter for at least an hour at room temperature.
Turn out the loaf onto a large piece of parchment paper. Score the top with your preferred design with a sharp knife or better a bread lame. Carefully take the preheated dutch oven out and set it on top of the stove. Remove the lid, and then super carefully pick up the loaf using the parchment underneath as a sling, and place it into the dutch oven. Place the lid on and slide it into the oven for 20 minutes. Remove the lid and bake for another 12-20 minutes, keeping an eye on it and removing it when it is done to your preference in golden brown.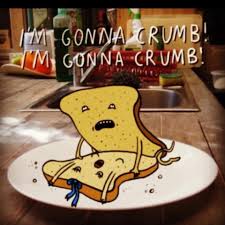 My blogs may include affiliate links, so without costing you anything extra, I'll earn a small percentage of the sales if you purchase items through these links. Thank you for your support!